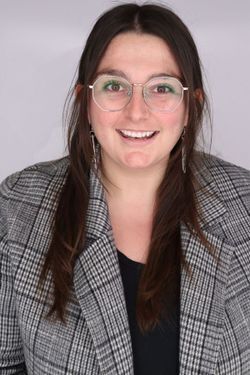 Tell us a little bit about your previous professional experience.
For the last two and half years, I worked at Foundation for Appalachian Ohio (FAO) on scholarships and development. I'm proud of all I accomplished there, including assisting with, and securing a $4 million grant for the retention and recruitment of the K-12 workforce in Appalachian Ohio. Additionally, I assisted with incubating the African American Community Fund (AACF), which is a regional community foundation that began with a $3,000 donation and is now over $500,000. Through AACF, I secured a $50,000 grant for capacity building for Black-led non-profits from US Bank and a $1 million grant for FAO's I am Child of Appalachia Fund and AACF. Additionally, I led the processing of $550,000 in scholarships awards to over 300 students.
Was there a donor that really inspired you during your time at Foundation for Appalachian Ohio (FAO)?
Ernie Bynum, cofounder of the African American Community Fund (AACF) at FAO, inspired me daily. He worked with his father to establish the fund and always dreams big. He is a joyous donor, who truly has a servant heart. He always believed philanthropy was an opportunity to continue his family's legacy and inspire future generations. His father passed away during the process of building the fund's endowment, and Ernie shared that his father came and completed his life's mission through his work with AACF.  
What about before FAO?
I received my Masters in International Development Studies from Ohio University, focusing on food insecurity, women's empowerment and poverty. My thesis focused on a women's empowerment program in Cuenca, Ecuador. Before that, I was a Fulbright Scholar in Germany where I taught English to fifth through twelfth grade students and worked at a local integration center for immigrants and refugees. I was born in New Jersey and raised in Florida. I attended Florida Gulf Coast University in Fort Myers and have a degree in history.
How did you become interested in the Springfield Foundation?
The Springfield Foundation is near my fiancé's hometown, which is what initially got me interested in the foundation. After researching the Springfield Foundation, I learned they are really integrated into the community and dedicated to improving the lives of Clark County residents. I was also struck by the Diversity, Equity, and Inclusion work happening at the Springfield Foundation. The Foundation is not waiting for people to come through the doors but going out into the community to ensure the entirety of the community is represented.
What are you looking forward?
Professionally, I'm excited to meet all the great organizations in Clark County. Everyone has been so friendly! So far, I've visited Hartman Rock Garden, Synder Park, Autumn Trails Stables, and the 1159 Community Development Corporation. I can really see the love and passion people have for Clark County. I'm also looking forward to going through the grants process this year and taking it to the next level as the organization grows. Personally, I'm also looking forward to my wedding this September in Champaign County!