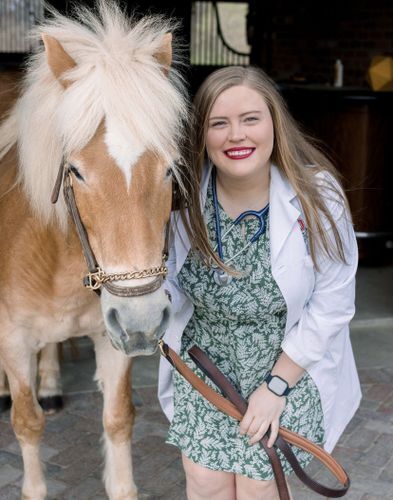 Kait McEnaney is a 2014 graduate of Kenton Ridge High School. She received the Warren G. Elliott Scholarship in 2014 for her undergraduate studies.
Kait was awarded the Kathleen Wachsmuth Veterinary Medicine Scholarship in 2019, 2020 and 2021 while working towards her graduate degree. She received a total of $38,950 in scholarship awards from the Springfield Foundation.
Kait shared the following story of her success.
I am a current Equine Intern at The Ohio State University after completing my veterinary medicine degree at OSU as well. I was born and raised in Springfield by my parents who gave me the world and their never-ending support. I've wanted to be a veterinarian since I was a little girl pretending to take my sick stuffed animals to the hospital. Specifically, I had a fascination with horses, and I dreamed of the day I'd be lucky enough to care for them. I have spent my entire life preparing for where I am now, and life did not stop around me. Veterinary school brought with it some of the most incredible and heartbreaking moments in my life, from lifelong friends and colleagues to loss of family members and a pandemic that ravaged the world. After completing my degree, I pursued continued training with an internship at OSU specifically in equine medicine and plan to complete a residency in equine internal medicine in the future.
I owe a lot of gratitude to many people in my life: my parents for never doubting a crazy daughter who loved horses maybe a little too much, my friends for seeing the best in me when I couldn't, and generous individuals who gave to those who came after them and strived to make veterinary medicine a better place. Being a veterinarian would still be a dream if not for scholarships I received from The Springfield foundation, and I hope one day I can give back to a kid with ambitions of pursuing one of the greatest careers in the world.